Your TRYTN account offers a verification process called Two-Factor Authentication (2FA) to ensure security when logging in. See below to better understand how 2FA works and the process for enabling or disabling functionality for your own account, when needed.
This article covers the following topics:
Related Articles:
What is Two-Factor Authentication (2FA)?
Two-Factor Authentication (2FA) is an additional layer of protection added to your account. It requires anyone trying to log in to provide both a password and a passcode to gain account access.
Here's why Two-Factor Authentication is essential:
Traditional single-factor authentication requires only a password or a username and password combination to log in. However, this is usually not secure for various reasons:
Users frequently use the same passwords for multiple applications or sites.

Users may have passwords that are easy to guess.

Hackers can compromise systems and publish data, which can be a significant issue if passwords are the same across multiple sites.
To address these security issues, we provide Two-Factor Authentication to ensure additional security measures for your account. With Two-Factor Authentication, you're first prompted for what you know (i.e., your password) and then prompted for what you have (i.e., your authenticator application). In our case, you'll have an authenticator application that will provide you with a unique six-digit code specific to your account and device. Even if your password is compromised, your account remains secure because the hacker won't have the code that's only available on your device.
Enabling Two-Factor Authentication
To include two-factor authentication for your TRYTN account, log in first and then follow the quick steps below to reset the authenticator key:
1. Simply navigate through the website by selecting your account name in the upper left corner > My Profile > Two-Factor Authentication.

2. Click the green Get Started button.

3. Hit the red Reset Now button.

Now you will need to reconfigure the two-factor authentication setup. To do this, follow steps 1-3 on the screen shown below, using either of the recommended apps on your phone.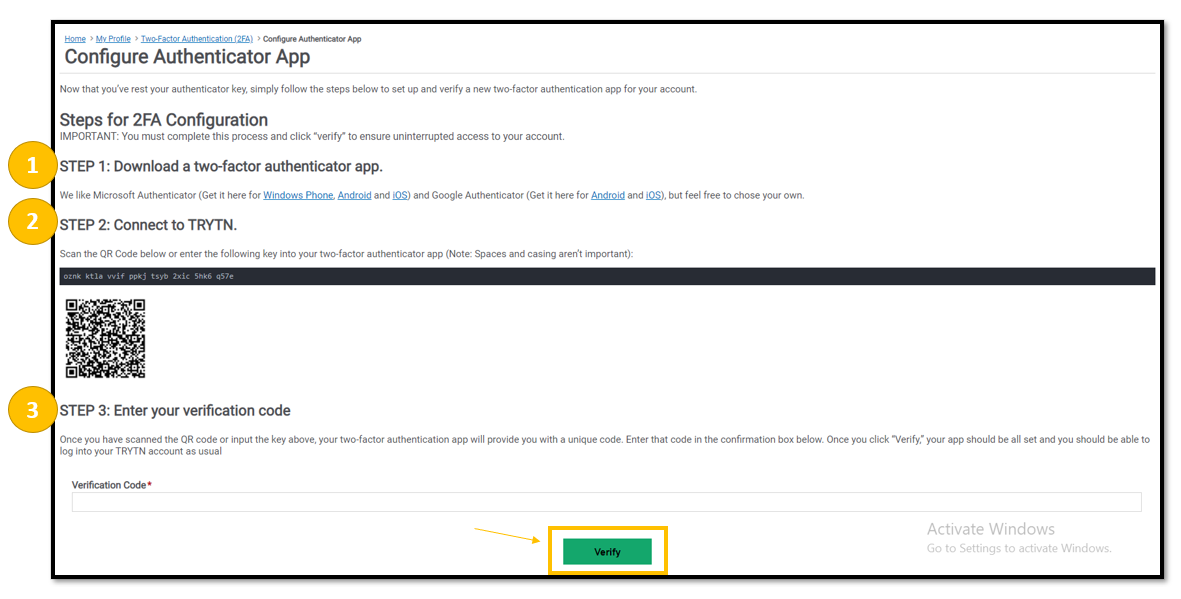 That's it - once you click Verify, two-factor authentication will be enabled on your account! On the Two-Factor Authentication screen, you will now see two additional options that allow you to delete 2FA or reset your recovery codes (shown below).

Disabling Two-Factor Authentication
If you wish to disable your two-factor authentication (2FA), log into your account and click here or navigate to My Profile > Two-Factor Authentication (2FA).

As long as 2FA is enabled on your account, you will see a button titled Disable two-factor authentication (2FA), shown below.

On the next screen, click the red Disable 2FA button and your account will no longer utilize two-factor authentication for login. It's important to note that your account will be less secure if you disable this feature. For more details on, read What is Two-Factor Authentication (2FA) above.