TRYTN allows you to connect to your Viator account (powered by TripAdvisor) to maintain real-time availability for your product offerings.
This article covers the following topics:
3 steps to connect your TRYTN account and schedule to Viator:
Other helpful articles:
Related articles:
Connecting TRYTN as your Reservation System on Viator
STEP 1: Create a Viator Account (or log in to an existing account)
Visit Viator's TripAdvisor Experiences Management Center to create a new supplier account (via Get Started links) or log in to an existing account (via Sign In link).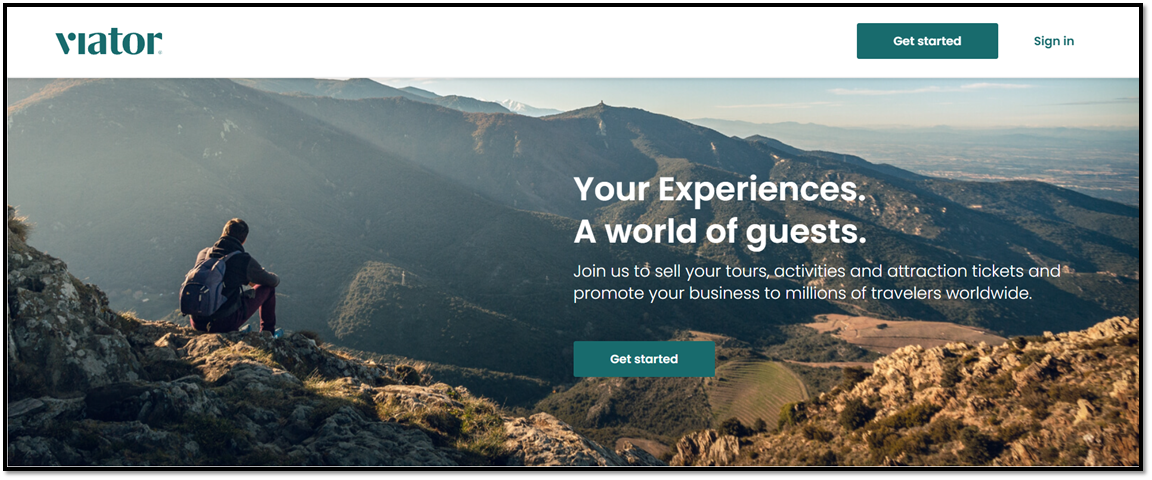 STEP 2: Connect TRYTN as your reservation system
You can either inform TripAdvisor/Viator you would like to use TRYTN as your reservation system, or you can follow the steps below to complete this connection yourself.
1. While logged in, click the supplier dropdown menu at the top-right of the screen, and then select Account (see example below).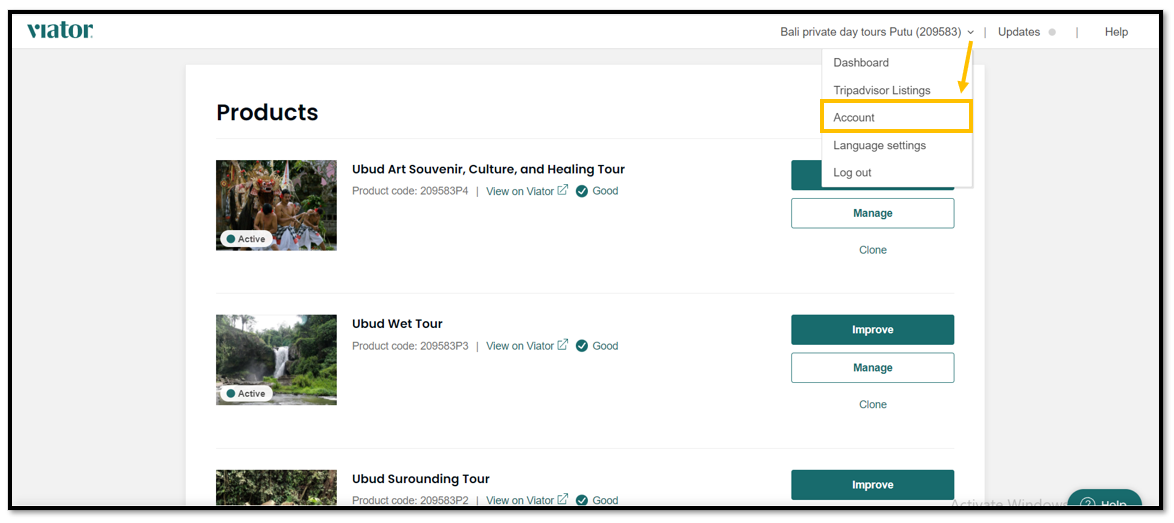 2. From the Account screen, click Connectivity.

3. Click the green button labeled Connect Now and select TRYTN from the dropdown menu.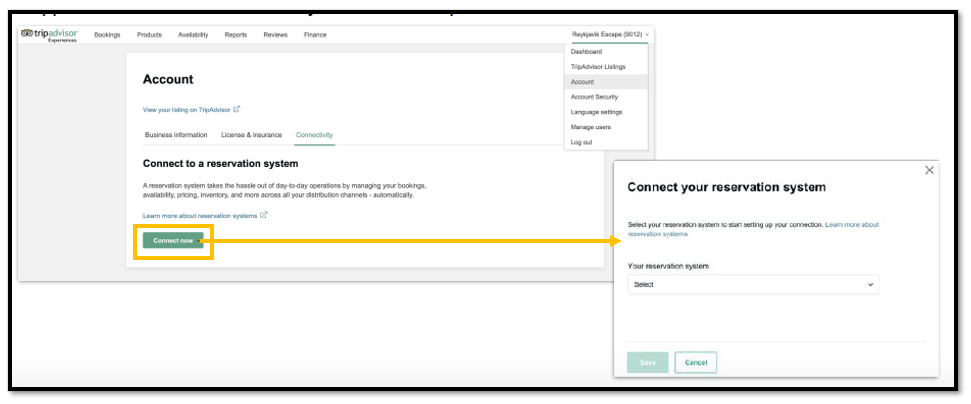 4. Under the Connectivity details header, you will see "API enabled: Pending." From here, click the adjacent Edit button.

5. Copy the following API key and paste it into the API field. Then click Save.
API Key: prod_Ct8P9QMwzXa8odAevU8sS0fQCsIwYD7btOoW337czg1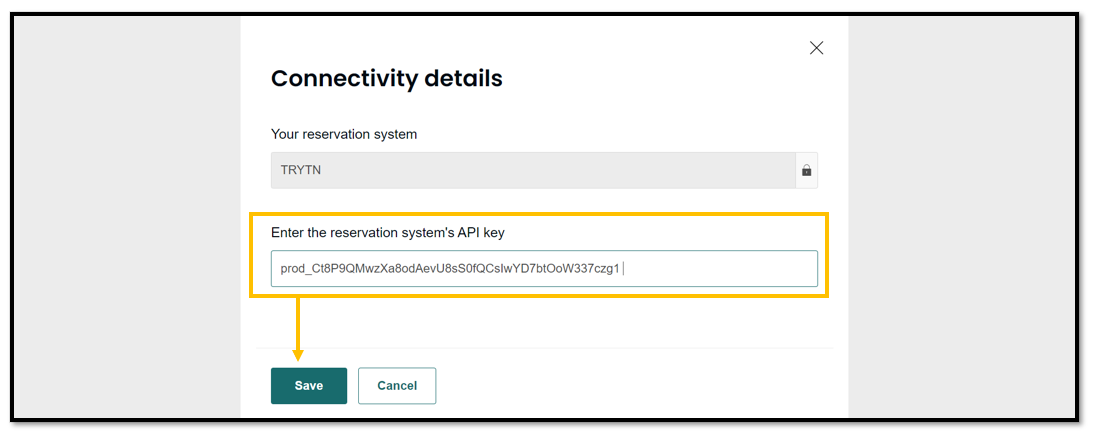 6. Copy the Viator SupplierId number that is displayed. Log into your TRYTN account and navigate to Settings >Viator. Here, you will enter the Viator Supplier ID and click to Save Changes.

From here, you will need to mark applicable products on TRYTN as Exposed for Purchase through Viator.
Expose TRYTN Products for Purchase through Viator
Once you've connected your TRYTN shop to a Viator account, you will need to indicate the products on TRYTN that are exposed for purchase through Viator. You will do this through each individual product's Advanced Settings page.
1. To start, navigate to the product of your choice and click on that product's Actions menu, followed by Advanced Settings.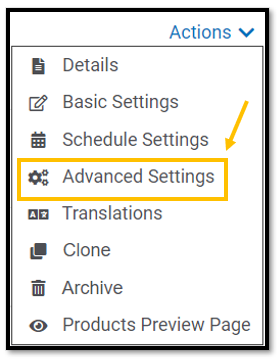 2. On the left side of the page, click on section 5) Integrations.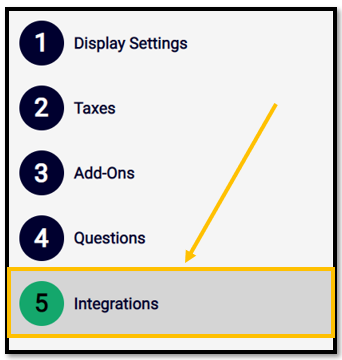 3. Under the Viator heading, select the checkbox labeled "Is this item exposed for purchase thru Viator?".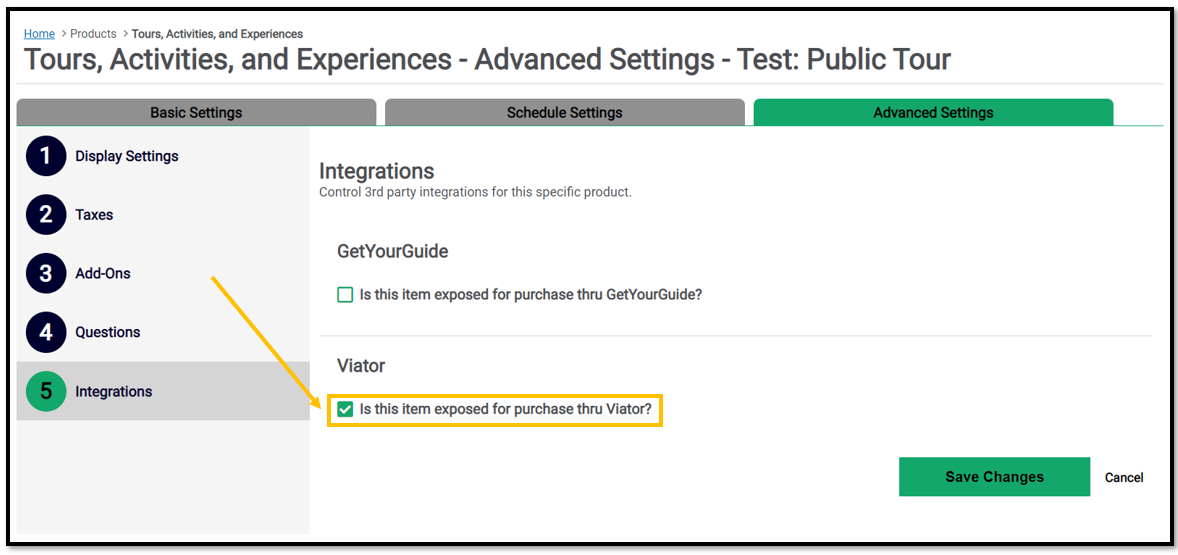 4. Be sure to click Save Changes to retain this setting. You will need to repeat this process to update each activity on your account.
Note: After steps 1-4 are completed, it can take 8-24 hours for the API connection to display within your TripAdvisor/Viator Account.
Creating a Product with Multiple Options on Viator
If you offer slight variations of the same tour or activity, we recommend creating only one product and adding multiple "Options" to it. This will help customers determine which activity best fits their preferences, give them an opportunity to upgrade to an even better option, and consolidate your reviews into one location.

To create Options for your product, follow the steps below:

1. Log in to your Viator account
2. From the Products page, locate the product you want to edit and click Manage.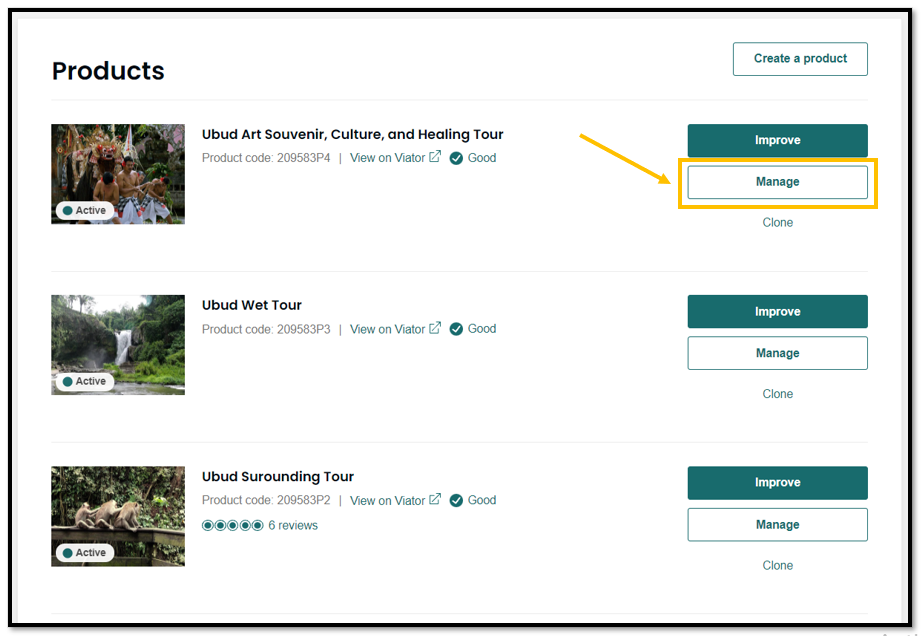 3. Select Schedules and prices.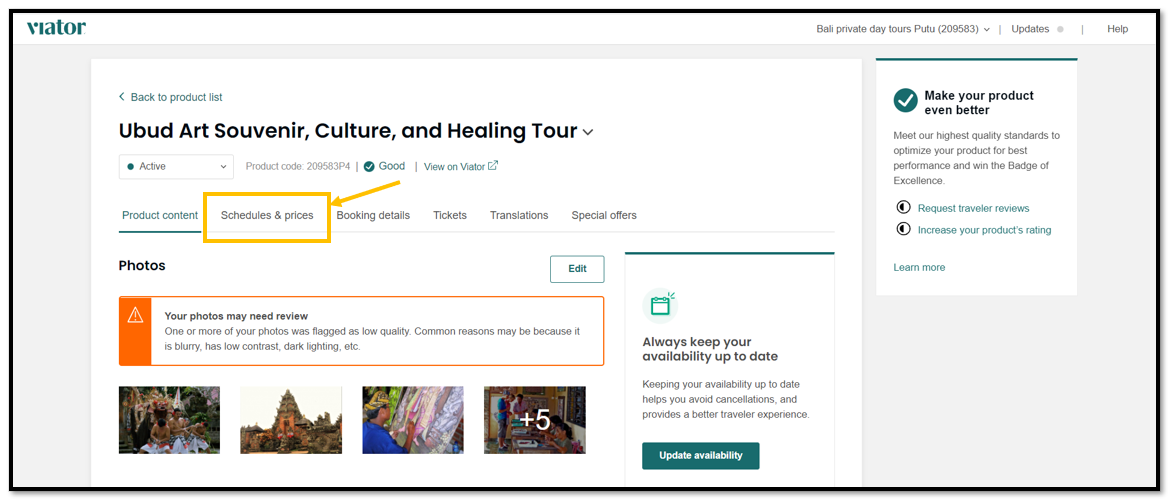 4. Click the +Add option button toward the bottom of this page.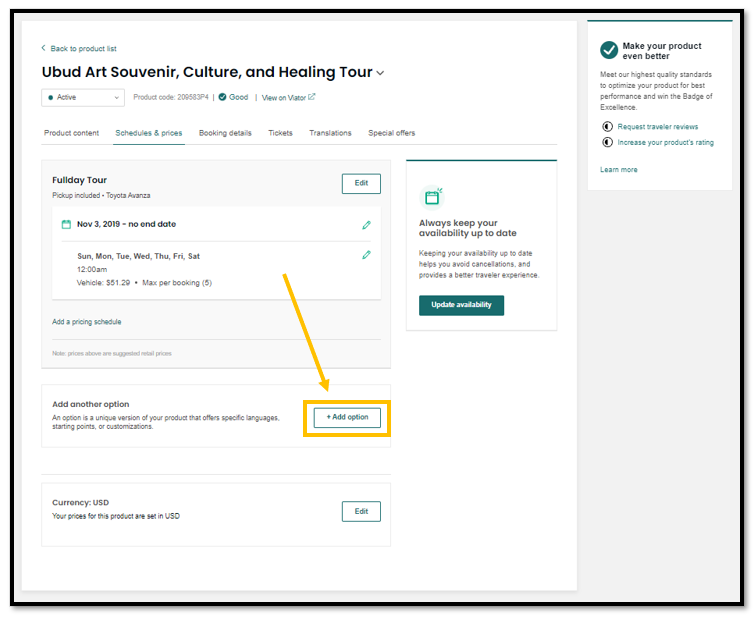 5. Add a name for your Option, whether it includes pickup, and determine which product option makes the most sense for your product (under Product Option Details). Then click Next to continue.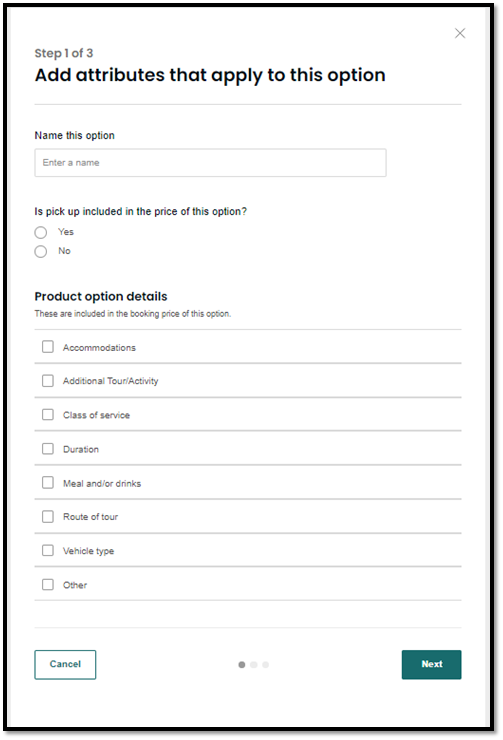 6. Enter the date when your schedule will start and select the applicable option. Then click Next to continue.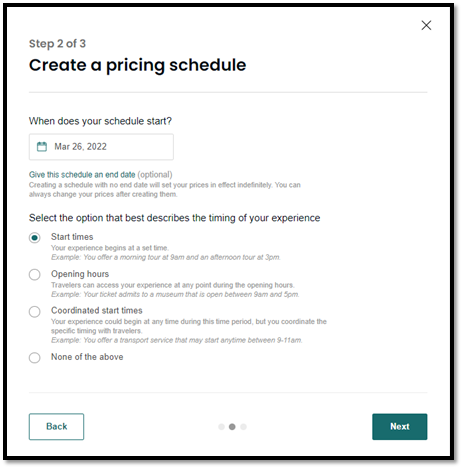 7. Enter the rate information for this option, followed by the days of the week and times this pricing is applicable. Then click Save.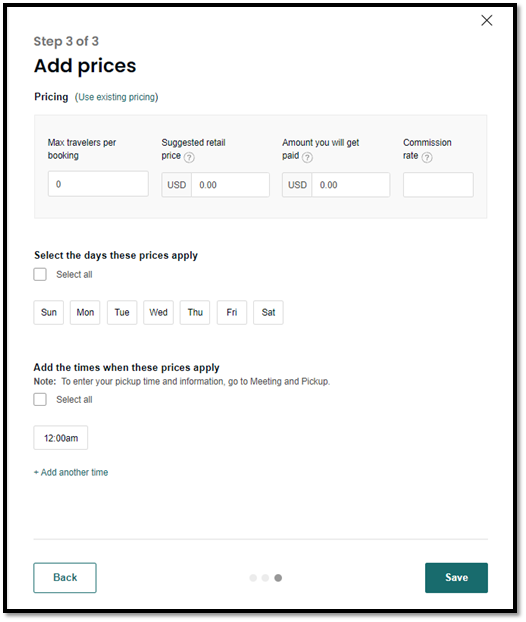 8. Finally, repeat this process for all applicable activity options.
Viator Support
If you have questions as you navigate the Viator website, it is recommended to click the help button in the lower right-hand corner of the screen on this site.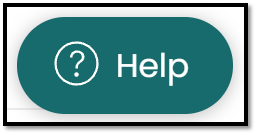 Helpful Viator support articles: