Important account features and functionality settings can be enabled or disabled from the Features page found on TRYTN.
This article covers the following topics:
Related Articles:
Overview of Features Page Customization Options
You can update account features and functionality by navigating to Settings > Features.
From this page, simply click the box next to any feature your want to turn "on" and/or deselect any feature you want to turn "off." It is recommended to turn off any features that you are not using in order to minimize clutter and simplify your day-to-day operations.
What changes when I de-select a feature?
Any changes you make will be reflected in the primary site navigation (for example, if you uncheck the Unscheduled Activities option, you will no longer see a link to Unscheduled Activities under the Products section of the site navigation).
Example: Changes to the Features page impact what you see in the site navigation (shown below).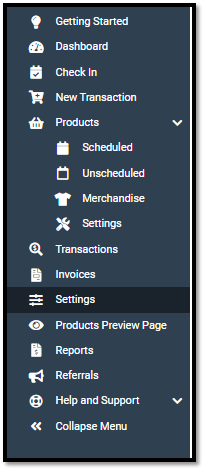 These changes will also impact whether other areas of the system are shown or hidden (for example, if the Asset Management feature is removed, you will not see assets under the product settings page, nor will you see a section for assets when creating the schedule for a product).
Example: The images below show examples of the system both with and without the Asset Management feature selected.
Product Settings: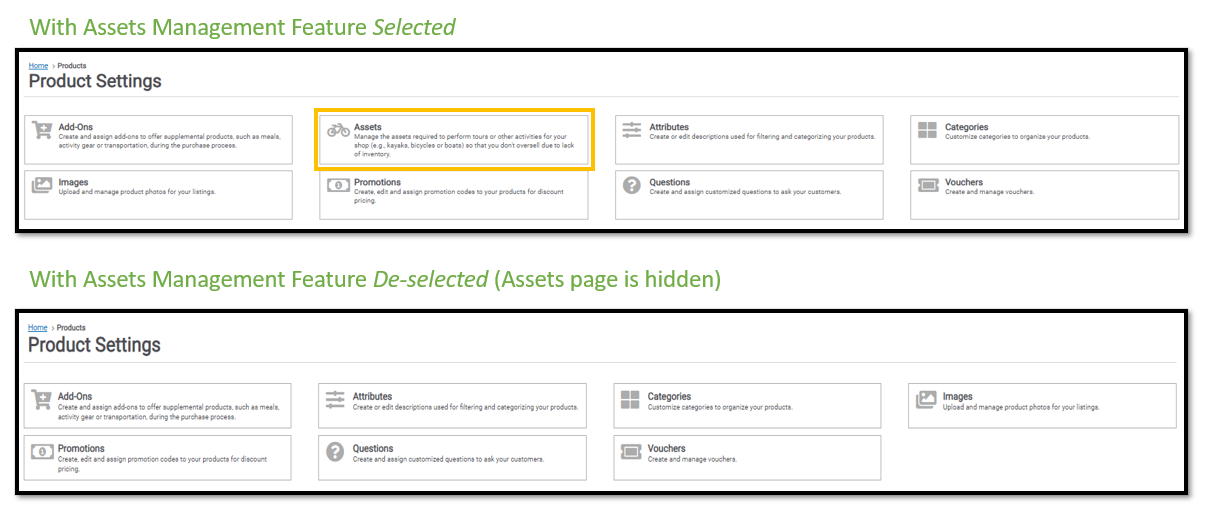 Product Schedule: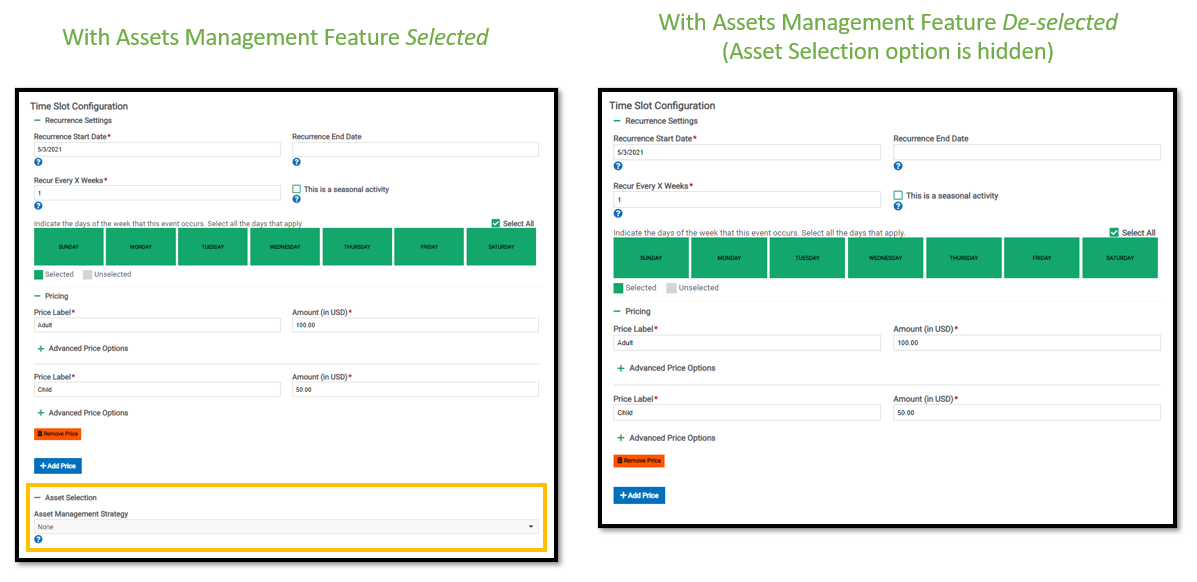 List of Features
The following list includes all features that can be turned on or off from the Features page on TRYTN.
Product Types (ability to add or remove Scheduled Products, Unscheduled Products or Merchandise from your shop offerings)
Assets (ability to manage and automate the availability of assets, the physical items required to perform a tour or activity)
Check-in (ability to track customers who have checked in for an activity)
Tickets Included in Customer Emails (ability to include customer tickets in the confirmation email)
Customer Invoices (ability to send custom invoices to collect payment)
Manual Add Option for Transactions (ability to indicate that a payment will be collected outside the TRYTN system)
Ability to Include Multiple-Day Activities (ability to create scheduled activities that span 1+ days)
Staff Management (ability to add individual user accounts and manage user roles on TRYTN.com)
Tax Exempt Option for Purchases (ability to enable tax free purchases on items of your choosing)
Note: Account features can be updated at any time.
User Access to Shop Features and Functionality
Individuals added to your shop can have very broad to very limited access to TRYTN features and functionality, depending upon their role(s) in the organization. Please see User Roles and Permissions in the article Managing your Team within TRYTN so you can determine what features and functionality each new user needs access to.